Two eminent clinician-scientists at the University of Michigan have received Taubman Scholar appointments, the Taubman Institute announced.
Srijan Sen, MD, PhD, is a psychiatrist whose research focuses on the interactions between genes and the environment, and their effect on stress, anxiety and depression.
Vibha Lama, MD, MS, is a pulmonologist whose research focuses on fibrosis pathways in the lung that are common to several pulmonary conditions. She is an expert on the mesenchymal cell and its fibrogenic transformation regarding lung transplants.
The Taubman Scholar grants of $450,000 over three years are effective July 1. The grants were established in 2008 by the late philanthropist A. Alfred Taubman to provide unrestricted funds that would enable physician-investigators at the University of Michigan to pursue novel and bold biomedical inquiry.
"Drs. Lama and Sen were selected from a wealth of worthy candidates," said Charles F. Burant, MD, PhD, director of the Taubman Institute. "We are delighted to support these dedicated faculty members who are in the prime of their careers and recognized as thought leaders in their fields of investigation."
To date, 23 U-M faculty members are designated as Taubman Scholars, in fields ranging from cardiology to ophthalmology to genetics. The Taubman Institute also provides support to junior faculty through its Emerging Scholars Program, which funds the research of early-career clinician-scientists. In addition to financial funding, the scholars at all levels participate in mentorship, opportunities for scientific collaboration and networking with one another, creating partnerships among scientists who might not otherwise have crossed paths.
The intersection of stress, depression and genetics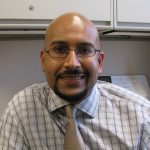 Dr. Sen's research includes the large Intern Health Study, which focuses on physicians in their first year of post-medical school training to understand how stress leads to depression. As of February 2021, the study includes data from more than 25,000 interns at over 100 U.S. and Chinese teaching hospitals. He has also studied the relationship between duty hour requirements in medical training and medical errors.
The project has produced high-impact findings across a wide range of interdisciplinary academic topics including genomics, mobile technology, economics, gender and racial disparities, survey methodology and medical education policy.
Work from the study has been published in JAMA, BMJ and JAMA, and covered in the New York Times, Washington Post, Time Magazine and other media outlets. These papers have been cited over 120 times, on average, with two of the papers ranking among the Altmetrics top 100 most-discussed articles of the year. Dr. Sen has received many awards including the Seymour Lustman Award, the American Psychological Association/Lilly Resident Research Award, the NIMH BRAINS Award and the U-M Endowment for the Basic Sciences.
Dr. Sen was appointed a Taubman Emerging Scholar in 2014. Currently, he serves and the director of the Frances and Kenneth Eisenberg and Family Depression Center, and the Frances and Kenneth Eisenberg Professor of Depression and Neurosciences. He also is Associate Vice President for Research – Health Sciences at Michigan Medicine, and a research professor at the Michigan Neuroscience Institute.
He received a BA from Cornell University and earned his MD and PhD from the University of Michigan, completed a psychiatry residency at the Yale University and returned to Michigan as faculty in 2009.
"Being a part of the Taubman Institute has been integral to my career, giving me the freedom to develop new research directions and collaborations," said Dr. Sen. "I'm honored to join such an accomplished and impressive group of scientists as a Taubman Scholar."