Conversations for Change: The Dual Pandemic and College Student Mental Health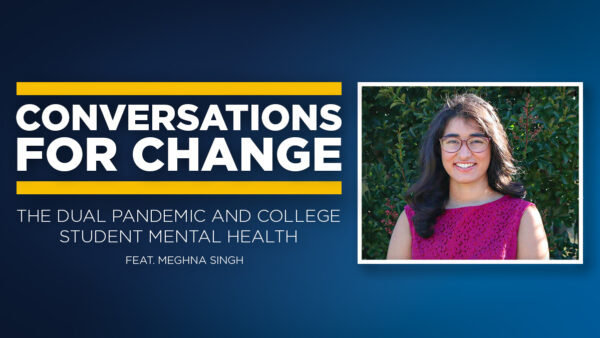 In this episode of Conversations for Change, U-M College of Literature, Science, and the Arts student Meghna Singh joins U-M Social intern Cam Turner to discuss the stigma around mental health, how the dual pandemic has impacted college students' well-being, and the upcoming Depression on College Campuses Conference. 
Singh explains why the conference theme, Addressing the Dual Pandemic: The Impact of COVID-19 and Racial Injustice on College Student Mental Health, is an important topic to focus on. 
"Everyone comes from a different background. There may be some people who talk about mental health all the time in their school, in their family community, in their cultural or religious background, [and] there may be people who've never heard the words 'mental health' before because there's a huge stigma about the topic in many communities. And that's something that we're trying to change," she says. 
"The pandemic and ongoing racial injustices across the nation have taken a toll on people's mental health," Singh says. 
"With the pandemic, we know that people are experiencing increased rates of loneliness, just given social distancing, isolation, and the lack of connectedness," she says, adding that for many people the online connection isn't the same.
"People miss giving hugs, people miss seeing people in each other's houses. I think it's really important just to keep in mind that this time is really different from anything we've experienced in our whole lives, especially for college students."
She notes that in addition to the anxiety that comes from worrying about getting sick or exposing someone else, college students had the added burden of constantly adjusting how they learn over the past year.
"And on top of that, with the racial justice movement that had so much energy over the summer—which was awesome just to learn so much about, and hopefully that momentum is continuing now—I think it's a lot for people to take in…especially if they haven't heard about racial injustices before, or weren't as aware of it before," she says. 
"I hope that people are having conversations about what their role is in preventing racism and discrimination in any setting that may exist—that's also taxing and can take a toll, but that doesn't necessarily mean that that work should stop. Especially for the people who have been affected by racial injustice."
The mental health conversation is important to have with college students to increase awareness of well-being, reduce the stigma around discussing mental health, and promote the resources and tools that are available through the university. 
"Having the skills to not only name what mental health is, but also name how you can best support [peers] in those situations and just be there for them—it's going to help not only you, but help those around you in general," Singh says. 
The Depression on College Campuses Conference will be held virtually on March 9-10 and is free for all college and university students from any institution.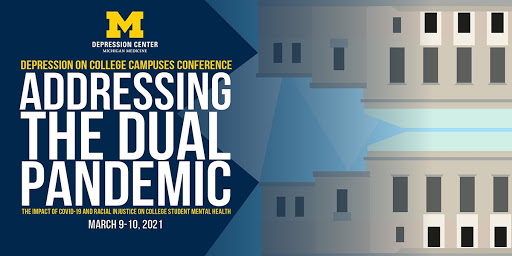 "I highly recommend students register if they're able to, even if it's just for a portion of the conference, because there'll be some really interesting keynote speaker presentations, breakout sessions, workshops, poster presentations, and networking," she says. 
The speakers, sessions, and workshops include representatives from universities, colleges, and organizations from across the nation. View the agenda and register for the Depression on College Campuses Conference today: depressioncenter.org/docc